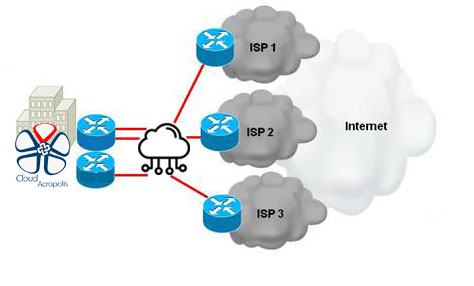 Cloud Acropolis is connected to all local Internet Operators in a fully automated and redundant way, in all its sites. So if our main telecom service provider's link fails, the 2 other telecom services will pick up the load, without our customers even sensing this session transfer
---
Cloud Acropolis, is the only Cloud Service Provider in the region region being telecom independent and yet connected to all operators in an automated high available way. Based in TIA 942 Rating III and IV standard, data centers should have at least 2 network connections from 2 different operators. In the middle east region, CSPs are mainly owned by telecom operators and thus connected only to that one operator.
We have installed eBGP in our routers. We have synchronized this with all operators and have tested it multiple times already. As a policy we are switching our main operator every month to ensure this configuration is working at all time.
This eBGP is also enabled in between all our sites, thus in cased of a full disaster and destruction of one of our building, our customers can enjoy continuously their provisioned Cloud Acropolis services without even realizing the issue at our end.